How to Create a Meme with MemeCrusher
MemeCrusher is a tool that enables you to create a meme, or viral image, really easily. These images help you get traffic to your Facebook page or to your blog.
The way it works is that you are presented with a lot of different styles you can use to create your image. For example, MemeCrusher defaults to a collection of meme styles. You also have a collection of plain backgrounds for quotations and festive backgrounds for holidays and birthdays.
Let's just start with the meme styles to give you an idea of how it works. To get started, you simply click on the image that matches the style you want to use. This image will be used as the background.
Next you will add an image to your meme. You can do this by uploading your own image. You can also use MemeCrusher to search for a free image you can use from one of two libraries – Morgue File and Stock.Xchng.
For example, you could search for an image of a cat. Cats seems to be very popular when people create a meme. When you search, all of images of cats will be pulled back for you from the library you choose. Look through these images for someone that stands out and will look good with text added.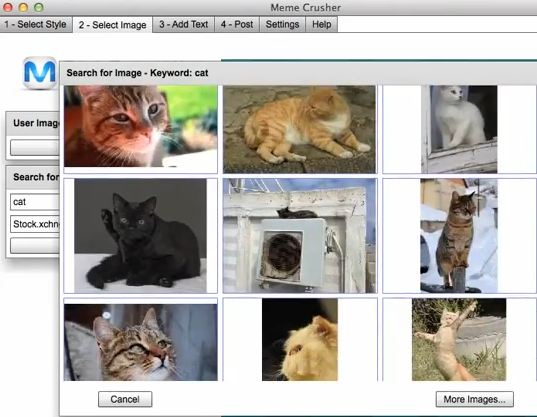 After you choose your image, the next step is to click the "add text" tab. Under title, you will write the text you want to appear at the top of your meme. In the body section, you will write the text you want to appear under the image on your meme. You can also change the text font, size and color from here.
Next, you will brand your image in order to bring traffic to your Facebook page or blog. You do this by entering your website in the section titled URL. You can adjust the size and color of this text as well.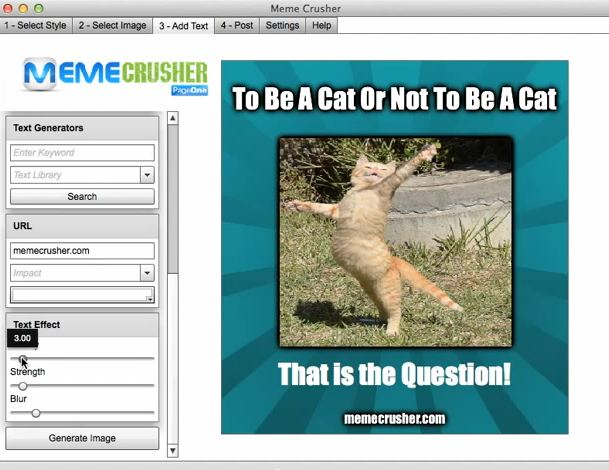 Lastly, there is a tool which allows you to add a background or shadow to your text to make it stand out from the rest of the page. Simply use the sliders to control the quality, strength and blur.
When you meme is complete, you will select "generate image." This will save a copy of the image on your computer in a folder called MemeCrusher inside your documents.
You can now post your image to Facebook, Pinterest or a WordPress blog. For Facebook, simply log into your account from MemeCrusher. Next enter a caption and decide whether you would like your URL posted with the image. If you would like it to post on a page, simply choose the page on which it should appear. Then just click upload, and your image will be posted on your Facebook wall.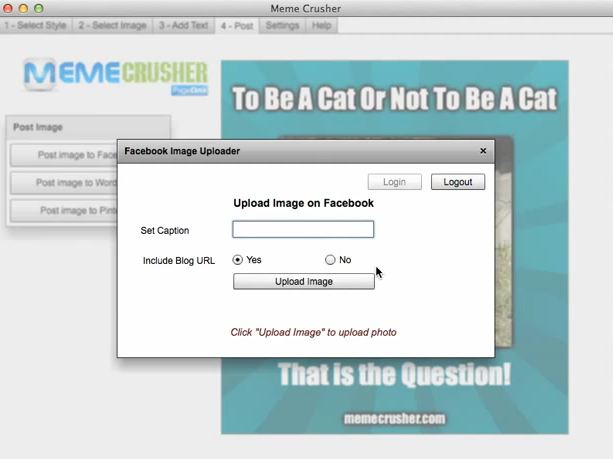 Let's talk more now about the other types of styles you can choose with MemeCrusher. If you would like to post an image for a special holiday, open the festive styles and choose one that fits the occasion. You will be able to add your own text to each of these.
The plain backgrounds are perfect when you want to add a quote to your Facebook page or blog. You can type in your own text for the image. If you have a creative block, by clicking a button  you will see a random quote or fact you can use. You can search through these quote databases as well.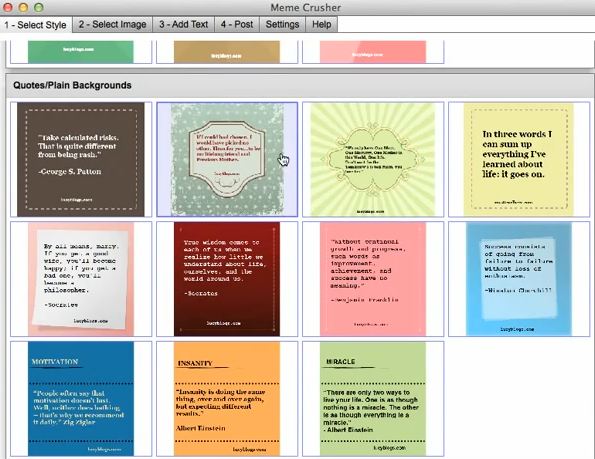 With this program, you have everything you need to create a meme or viral image very quickly. You can post and share these images to get viral traffic to your fan page or site – and that's MemeCrusher!