3 SIMPLE STEPS FOR VIRAL TRAFFIC USING MEMECRUSHER
1. Select a Template
Choose a traditional meme style background, one for a quote, or even a festive one.
2. Create a Meme
Add your text and then upload your own image or search for images directly within the app.
3. Post to Social Media
Publish to Facebook, Pinterest, or WordPress to increase likes, shares, and re-pins.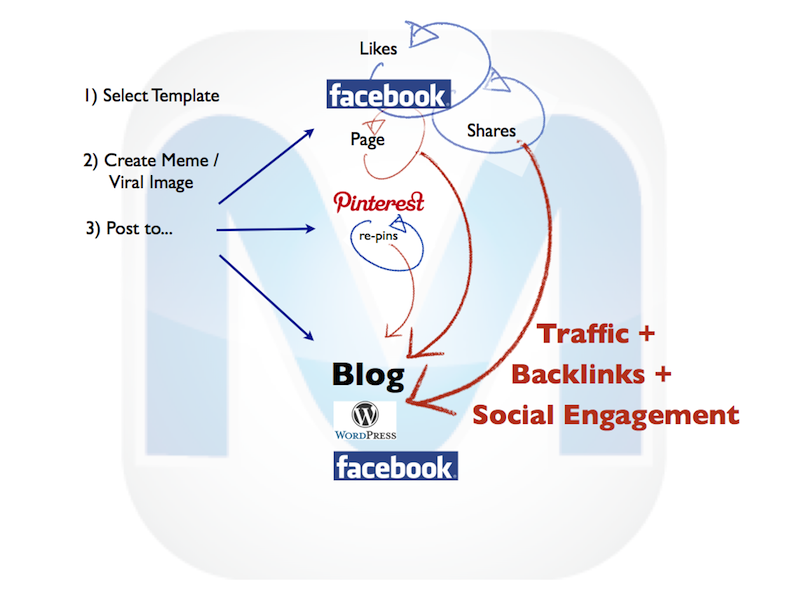 Find Shareable Images
Use the in built search facilities to find exciting and interesting images. Alternatively upload your own images from your desktop.
Choose A Style
Select from 42 different styles and backgrounds organized according to Meme, Festive or even your own blank template.
Add Your Own Text
Add your text then customize the look using a variety of fonts, sizes, colors and effects. Pro users can also search an inbuilt database of 39,000 famous quotations.
Post Images to Social Sites
Publish the image to your Facebook profile and any Fanpages linked to your account. PRO users can also post to Pinterest and any number of your own blogs.
Cross Platform Support
Cross Platform Support - MemeCrusher runs on Mac (MacOs 10.6, 10.7) and on Windows XP, Windows7. Wordpress self hosted software supported. Blogs must support xml-rpc.
100% Free Support
Support - Online help desk staffed by US and UK employees are there to help you deal with any issue with the software.
HERE'S WHAT OUR CUSTOMERS ARE SAYING
I Love it!... This product is an excellent time saver for one like me who is always busy rushing to the next project. Thanks for creating an awesome product at the perfect time!!!!!

Mario Janevski
Yes Meme Crusher is easy to use and I am impressed by the fact that it is constantly being improved at no additional cost to the existing users.

Mark Salmon
Excellent product and the support is great - even though the problem was of my own making!

Joy Healey
Before Meme Crusher, I was spending loads of time finding the right images and doctoring them in an editor. Meme Crusher brought a whole new world to my laptop. It is the one piece of software that I use everyday. I highly recommend the full version.

Jerry Waxman
Bought it right out of the box. It's a very effective, fun tool. One of the few products that I have purchased that works as advertised and enjoy!

Vincent Howard
I never thought it would be this easy...pick a photo...add some text...click enter. Pinning has never been easier. This is a must have product.

Norman Farrar
The Meme Crusher rocks! It makes adding content a snap.

Linda Jakubus
This product is amazing...

Rogério Oliveira
Love it.

Jay Peel